News
Headlines featuring the Northwestern University Bands.
"The big show on game day is just part — and perhaps not even the most important part — of what the young musicians love about being in marching band," writes Howard Reich in the Chicago Tribune. Howard's interview with Northwestern University "Wildcat" Marching Band members and their director, Daniel J. Farris, appear in the Friday edition.
Even as the Wildcat band is sidelined this season due to the global pandemic, along with all Big Ten bands, the band members are finding ways to find something familiar in a completely unfamiliar time.
Read more: "Keep the Traditions and the Community Going" as NUMB Continues in 2020
The United States Army Band "Pershing's Own", the most elite in that service, will feature Northwestern University Director of Bands Dr. Mallory Thompson and other alumni of the Bienen School of Music in a streamed concert on Friday, August 21.
The concert, titled "Magnificent Maestros," features several highly-recognized university wind ensemble conductors. Thompson will conduct the finale, "The Stars and Stripes Forever." This favorite is the official march of the United States, composed by John Philip Sousa.
"While it is always a tremendous honor to be invited to conduct one of our wonderful military bands," says Thompson, "one of the best parts is making music and reconnecting with SWE alumni."
Read more: Dr. Thompson, Alumni are "Magnificient Maestros" with U.S. Army Band "Pershing's Own"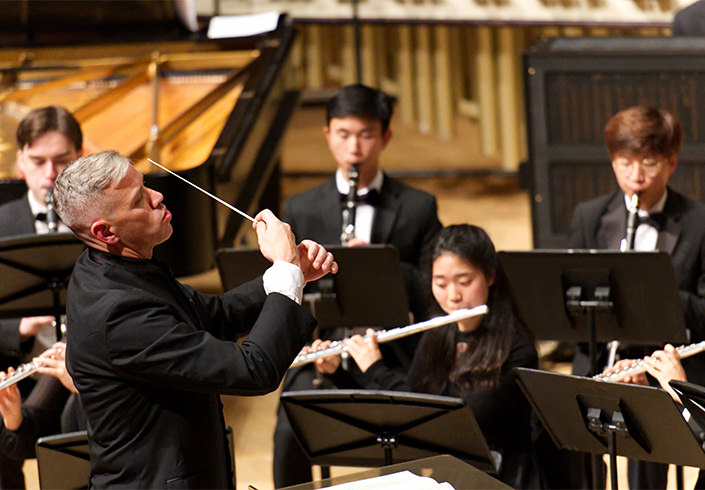 The Northwestern University Symphonic Band will perform at the North Central Division Conference of the College Band Directors National Association (CBDNA) on Saturday, February 22, at 11:15 a.m. The concert, which is free and open to the public, will be held at DePaul University's Gannon Concert Hall in the Holtschneider Performance Center.
Shawn D. Vondran, associate director of bands at the Bienen School of Music, serves as conductor of Symphonic Band. The ensemble was selected via blind audition process to perform at CBDNA along with 10 other prestigious ensembles.
Read more: Symphonic Band Selected to Perform at CBDNA Divisional Conference
In a blur of marching bands and school colors, Evanston community members gathered Sept. 12 in Fountain Square for Kits, Cats, and Kids, a pep rally-style block party celebrating city and school spirit, reports Gina Grillo from the Pioneer Press, whose story was picked up by the Chicago Tribune.
Read more: 'Kits and 'Cats Bands Featured in Evanston Day Coverage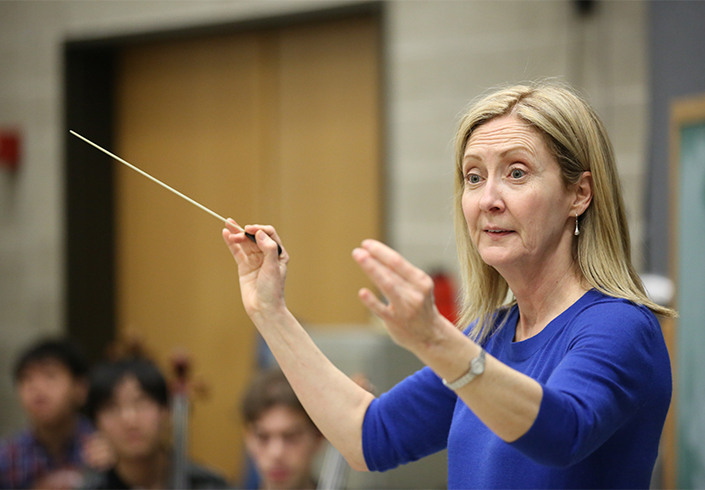 In the latest Northwestern Intersections podcast, Dr. Mallory Thompson discusses her "family" at Northwestern, including an extensive alumni network that she has cultivated for the past 23 years as director of bands. Thompson also discusses the Symphonic Wind Ensemble's 50th Anniversary Celebration.
Listen: Mallory Thompson '79, '80 MS on Making Connections & Community