News
Headlines featuring the Northwestern University Bands.
The Symphonic Wind Ensemble (SWE) at the Northwestern University Bienen School of Music will commemorate the 50th anniversary of its founding with a two-day celebration June 8 and 9, culminating in a performance featuring more than 150 Bienen School alumni.
The SWE 50th Anniversary Celebration concert will be held at 7:30 p.m. Sunday, June 9 in Pick-Staiger Concert Hall, 50 Arts Circle Drive on the Evanston campus. The event is free and open to the public. A live stream of the concert can be accessed starting at 7:20 p.m. at www.music.northwestern.edu/live.
Read more: Symphonic Wind Ensemble celebrates 50th anniversary June 8 and 9
IN THE SKIES OVER KANSAS — "We should have plenty of sunshine and a real nice trip," says Daniel Farris, director of the Northwestern University "Wildcat" Marching Band.
The band, along with cheerleaders, university staff, and distinguished guests, have taken to the skies on their way to support Northwestern's football team at the 2018 Holiday Bowl in San Diego. The musicians are wide-eyed as they receive first-class service aboard the chartered 777 aircraft, complete with hot towels. The three-course lunch includes chicken parmesan or a teriyaki stir-fry, served with a spinach salad followed by frozen yogurt.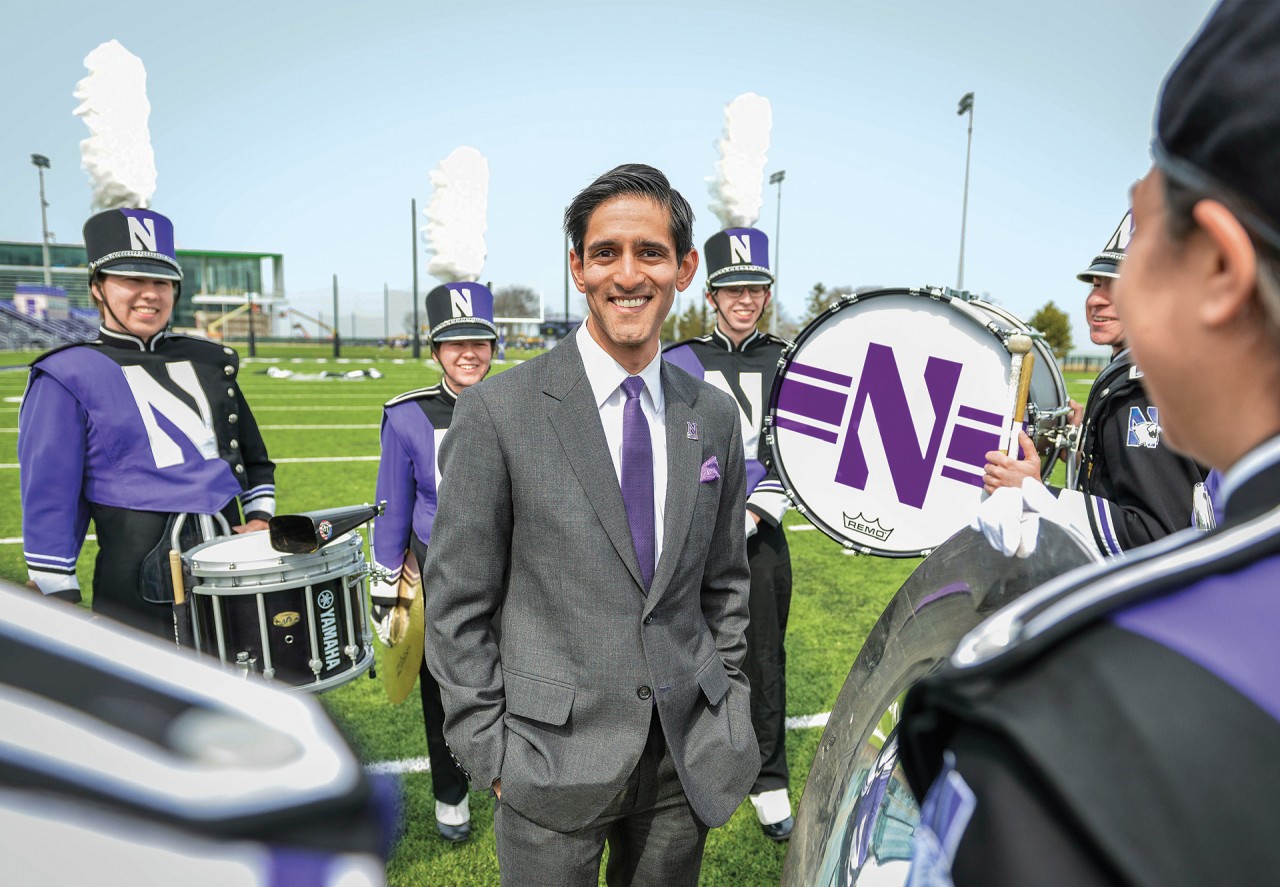 A diverse and highly accomplished group of 21 new and continuing directors has been elected to the Northwestern Alumni Association (NAA) Board of Directors. The directors, who were slated at the NAA's annual meeting Sept. 27 represent significant experience in digital communications, international business, talent management, and branding and marketing.
Among the alumni leaders is new NAA President Samir Mayekar '06, '13 MBA, who as a student was the drum line captain of the Northwestern University "Wildcat" Marching Band. The co-founder and CEO of SiNode Systems, Mayekar is a University trustee who began volunteering for the NAA more than a decade ago and is now the NAA's youngest ever president. NUMBALUM Bethany Crystal '09 also joins the board as council director.
Read more: Prominent NUMBALUMS Join Board of Directors for Northwestern Alumni Association
"Our high school has participated in this event for seven-plus years, and our students were super excited to celebrate Evanston as a town, and to take their spot in this community," says Evanston Township High School band director Haley Nichols in a story in today's Pioneer Press and Chicago Tribune.
She tells reporter Gina Grillo, "The opportunity for the ETHS marching band to play alongside a Big Ten band like NU is also a great inspiration."
The Northwestern University "Wildcat" Marching Band, alongside the Evanston Township High School "Wildkit" Marching Band, entertained kids and fans during last Thursday's now-traditional Evanston Day festivities.
Read more: 'Best College Town in America' Showcases Northwestern and Evanston Bands
EVANSTON, ILL. — "When the band's announcer had to leave early for one game, [Pete] Friedmann filled in for him as the post-game announcer," reports Savy Leiser in the latest edition of Halftime Magazine. It was a fateful moment that eventually led to Friedmann's appointment as Voice of the Northwestern University 'Wildcat' Marching Band.
Read more: Pete Friedmann '79 Profiled as 'The Voice' by Halftime Magazine